About Us
WINNERS-at-WORK Pty Ltd supports leaders to unleashing the potential of people at work.
Our point-of-difference is that we don't have 'off-the-shelf' pre-packaged 'solutions'. WINNERS-at-WORK appreciates that your issues are unique to your business. We therefore tailor our responses to your needs. In other words, we are proven problem- solvers who use a wide variety of effective and efficient strategies. We add value to your organisation and contribute to producing productive workplace cultures that are sustainable.
Lunch & Learn
Lunch & Learn is an innovative leadership development program for middle managers and supervisors. Its designed to build core leadership competencies in the areas of
Effective feedback
Personal influence
Team performance
Maximising performance
Understanding people
Effective meetings
Each of the six units are one hour and focused and practical. The units are presented over lunch (AEST) to minimise interruption in the workplace. They are piped into the computer screen of the manager while they eat their lunch.
Influencing Capabilities Profile
Without influence, managers are ineffective. There is growing recognition that this is a core leadership competency for managers, across industries, geographies, and sectors. Managers need to influence up, down, and increasingly, sideways, as organisations become flatter, more manoeuvrable and less hierarchical.
The Influencing Capabilities Profile provides you with an understanding of your preferred influencing strategy.
Five Conversations Framework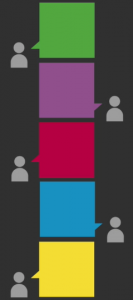 The Five Conversations Framework is internationally recognised. It's the ultimate change management program. The program is based on five performance conversations that can either replace or enhance the traditional performance review. It supports the implementation of the Five Conversations framework, using a blended learning approach that guarantees success.
Webinar Series
Register for any of these free webinars on the latest thinking in leadership and performance.
Testimonials
"Our respective targets for personal development were agreed with Tim Baker in a climate of mutual respect of professional qualifications."
Gerry Dalton
Queensland Cultural Centre Trust,
"Tim Baker's knowledge of his topic was excellent and his group interaction skills encouraged open discussion based learning."
David Whybird
Managing Director Bornhorst & Ward,
"I believe such leadership training programs can only offer assistance to managers".
Ian Dare
Rockhampton Regional Council,
"Must say that fellow from Dr Tim's office working with … is a genius and she has really on-board his comments".
Stephen Waller
Rockhampton Regional Council,
Our Clients