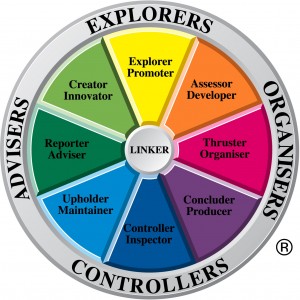 The TMP is a personalised report that gives individuals insights into how they work and their preferred role within a team, based on the Margerison-McCann Team Management Wheel seen to the left. Focusing on work preferences as well as individual differences makes it easy to connect individual development to operational realities in the workplace.
How does it work?
A 60-item profile questionnaire measures an individual work preferences to give you a personalised report showing
your major and two related roles on the Team Management Wheel on the left. You may choose to receive the results back as a hard copy, professionally bound report, or choose to receive the results instantly using the e-Profile option. For more information please refer to Team Management Systems.
Workshop
We then get your team together and work with the profiles to achieve three objectives for the team members and the team:
To develop an understanding of how you like to contribute when working in teams;
To appreciate and understand the diversity of offerings within a team; and
To use a process of achievement for all team tasks and projects.
"I think the group and individual sessions are going really well. I feel I am benefiting from them and I think some people continually like to use the excuses of 'no resources' and 'no time' without looking at themselves, their team and their current work processes".
Kerry Graham
Rockhampton Regional Council