Winning Teams: The Eight Characteristics of High Performing Teams
This book and online course offers leaders practical and easy-to-implement tools to profile and build a robust team identity.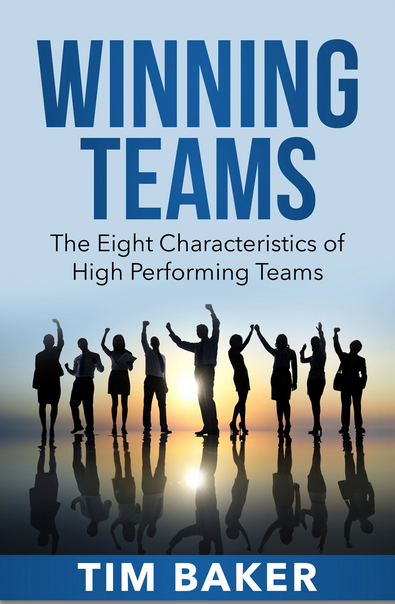 Great Pre-order Offers for you, your team, and the organisation
WINNING TEAMS offers leaders practical and esy-to-implement tools to profile and build a high performing team. Drawing upon the world's most successful team, this book provides insights into why the New Zealand All Blacks have a 83% winning ratio. This book promises to show leaders how to apply this team's success formula from the world of sport to the world of work.
Most team problems can be traced back to a simple misunderstanding, communication breakdown, or relationship malfunction. It's the relationships-dimension—not the task-dimension—that continually challenges team leaders. Winning Teams: Apply the All Black's Formula to Your Team offers leaders practical and easy-to-implement tools to profile and build a robust team identity. The Team Identity Model consists of the eight research-based characteristics that separates high-performing from low-performing teams. The focus of the model is the often-neglected relationships-dimension of teamwork. The secret of a winning team is found in how its members relate and interact with one another and the frequency of their collaboration.
This book is targeted at team leaders—typically promoted on their technical competence—who often struggle with the relationships-dimension. Further, business rewards task success—whether it's more sales, better widgets, or superior service delivery. But it's people that lead to task achievement … or failure—not the systems they use, or the knowhow they possess.
Team leaders are searching for a clear, easy-to-use roadmap to build a strong team identity that drives superior performance. The All Blacks are a popular and well-established winning team. This book promises to show leaders how to levitra apply their success formula in the world of sport to the world of work.
PART I—Building team identity
CHAPTER 1—What can business learn from the world's greatest sporting team?
CHAPTER 2—Developing robust team relationships: the key to high-performance
CHAPTER 3—The three keys elements of team relationships
CHAPTER 4—What is team identity?
CHAPTER 5—Buffering, bridging, and building
CHAPTER 6—The team identity model
PART II—Characteristics of high-performing teams
CHAPTER 7—Characteristic # 1—Building trust
CHAPTER 8—Forming a team values charter
CHAPTER 9—Characteristic # 2—Sharing leadership
CHAPTER 10—Designing a skills matrix
CHAPTER 11—Characteristic # 3—Being agile
CHAPTER 12—Non-job roles essential for agile performance
CHAPTER 13—Characteristic # 4—Creating purpose
CHAPTER 14—Formulating a team purpose statement
CHAPTER 15—Characteristic # 5—Managing stakeholders
CHAPTER 16—The SPIR model for stakeholder mapping
CHAPTER 17—Characteristic # 6—Improving systems
CHAPTER 18—Systems improvement using the After-action Review
CHAPTER 19—Characteristic # 7—Utilizing diversity
CHAPTER 20—Harnessing work styles: the new type of diversity
CHAPTER 21—Characteristic # 8—Learning continuously
CHAPTER 22—A multi-dimensional learning model
PART III—Benchmarking team identity
CHAPTER 23—The team profile and action-plan
What do rugby players say about this book?
An organisation is only as good as its people and their accomplishments and challenges can help shape the future direction and successes and of an organisation. For these people to do great work, they need to feel part of a team and a great team at that. The value of teamwork cannot be underestimated – it is vital to your organisation's success.
Commissioner Katarina Carroll
Queensland Police Service
Tim Baker does a wonderful job dismantling the mystique of continued and sustainable success. He creates guidelines that some leaders think they already possess. …. Mistakenly.
Tom Lawton
former Wallaby great
From 1984 to 1993 I had the fortune and privilege to play the New Zealand All Blacks on 20 occasions. 18 in our Wallaby Gold jersey and twice when I was honoured to captain a World XV team that played to celebrate NZ rugby's amazing centenary of existence since 1882.
For a country of now only around 4.5 million it continues to amaze me how consistently dominant the All Blacks have been over the decades especially in the last two. In 1987 in Sydney in a one-off Bledisloe Cup match the Wallabies first decided to stand up and eyeball the Haka – the New Zealand/Maori war dance. For me it was important to stand up and not be 50-metres away trying to ignore it, as we had previously done. We did this as a sign of respect to an amazing rugby culture and team. But perhaps more importantly we did this to send back a message that we won't roll over and die. The message was: If the all Blacks are going to win this afternoon they're going to have to play damn well!
Having played all my rugby in the amateur days, I am thankful we got to kick off usually mid-afternoon. It meant we had a chance to break bread and share a beer post the 80-minutes of combat. The French call it Le Troisieme mi Temps or Third Half. As a result, to this day I have many great All Black friends. I have heard them speak of privilege of wearing the jersey and tales of the memorable moments of being first selected for their debut test. To a person they talk of what it means and the legacy they're obliged to uphold. And the one thing they're obligated to do—however long they play in that famous jersey—is leave the team in better shape when they depart! The nation demands it and the All Black players are left in no doubt about how weighty that obligation is.
The All Blacks deal with any road bumps on or off the paddock internally. If things go wrong, the team turns inward and sort out any issue of culture, discipline, preparation or optimising their performance. The leaders within the team—and there are several—set clear and simple expectations. One example that springs to mind is when the newcomer sees the captain sweeping the changing room floor after training! What sort of culture do you think this creates within the team? We aspire to best the world's best, yet we humble ourselves. We also aspire to be decent people, seeking greater achievements and perfection. We do whatever it takes, including leaving the dressing room better than it was at the beginning of training. They don't die wondering how good they can be individually and collectively.
Tim's book nails the eight characteristics of high-performing teams. These characteristics are about relationships and culture, rather than just the task-at-hand. I call it ignoring the scoreboard and focusing on the process—all the things that go into doing your job, minimizing errors, trusting your teammates to do the same—and at the end of the 80-minutes or financial year—then look up and see what the scoreboard tells you! My experience in life is by getting the process right, the scoreboard looks after itself
Nick Farr-Jones AM
former Wallaby Captain and Great
I've had the great honour and privilege of representing the All Blacks between 1984 and 1993 in 46 tests. I have also been an All Blacks selector (2011–2019).
Tim Baker has written a great book on high-performing teams and has drawn upon the All Blacks as an exemplar of a winning team. As a current CEO, there are parallels between the world of sport and the world of business, when it comes to the application of teamwork.
It is drummed into us as All Blacks, that everything we do is about team first. This idea is translatable to business success.
The secret of the All Blacks success is that there is no secret—it comes down to hard work and application. The current players follow a proud legacy of success and it's a legacy they strive to replicate and enhance. As our national sport, New Zealand's identity as a nation is very much tied up with our success on the field.
Good coaching, talent, work ethic and correct fit is critically important of course, but the right mindset and application is key to success in any team, or any endeavor in life.
Tim Baker explains this perfectly in this very readable and practical book that is easily applied to your team.
Grant Fox MBE
former All Black and CEO, Techfront NZ